Posted by Emma Nolan on 24th Oct 2022
We are now headed into the winter months, and along with that comes the cold weather. I know for me this means my skin becomes alot drier and can look a bit dull. With this in mind I always alter my skincare routine to include some rich creams and serums. These products are rich and provide a much needed hydration boost without clogging pores. The brands mentioned use natural ingredients that are dermatologically tested and offer many different benefits.
Also, more often than not we have skincare routines for the face but forget the body, so we have included some our favourites to add to your regimen. Finally we have included a simple, quick DIY face mask with only three ingredients that is definitely worth a try for you next pamper evening!
So, why not change up your routine today and find your new favourite product!
---
Moisturiser creates a barrier between your skin and the climate, including cold, dry air. Incorporating moisturiser into your morning and evening routine can help reduce dryness and revive the skin. Get the glow everyday by using light but hydrating mositurisers in the morning and ultra-rich creams at night. You can also include serums which should be applied before moisturiser for an extra hydration boost!
Add C-Effects™ Crème to your skincare routine and enjoy a brighter and more glowing complexion. The potent daily dose of concentrated multi-antioxidant, stable form of Vitamin C (known as Ester-C) instantly boots skin radiance, minimises dark spots and targets hyperpigmentation, evens out the skin-tone and smooths.
A light anti-aging moisturiser to hydrate, nourish and revive the complexion. Revolutionary antioxidant Vinanza Grape keeps your skin healthy and energised. Native New Zealand manuka honey has potent anti-blemish properties to help keep skin clear and fresh.
Meanwhile, rosehip's high levels of Vitamin A and C and essential fatty acids lends itself to this hydrating day cream, helping to reduce the appearance of scars and wrinkles.
Lightweight and fast absorbing, this super serum quenches thirsty skin, while helping to improve your skin's radiance over time. Revolutionary antioxidant rich Vinanza® Grape from New Zealand helps offer resistance to environmental aggressors and pollutants, which may lead to diminished skin appearance.
---
At Evolution Organics we have a selection of rich creams that target the undereye and any concerns you may have. Eye creams can hydrate the undereye area and may even help reduce the appearance of fine lines and wrinkles.
---
Body creams seal moisture into the skin to prevent drying, soften rough elbows and heels, along with other dry areas of the skin. A quality body lotion can work wonders on dehydrated skin that feels rough, and hand body lotion works especially well on the hands and feet, but can be applied all over the body.
Nourish and hydrate skin with good ingredients: organic jojoba oil to heal and soothe, organic coconut oil to moisturize, organic hemp and avocado oils to keep skin smooth and supple. Good for most skin types, sensitive-dry-rough-or combination. We use only organic essential oils for fragrance. Breathe deeply!
An antioxidant-rich organic body lotion deeply moisturizes and brightens your skin with a velvety-rich texture. Acting as a "second skin," this blend protects from harsh environmental toxins and preserves skin integrity to reduce the appearance of sun damage. This natural lotion boasts organic rosehips, Australian sandalwood, vanilla, neroli, nutritive plant elements to leave your skin feeling rich in silky.
---
Why not give the gift of healthy skin or complete your own skincare regime with these specialised gift sets – these sets make it easy to discover, experiment, and treat.
---
DIY Brightening and Detox Facemask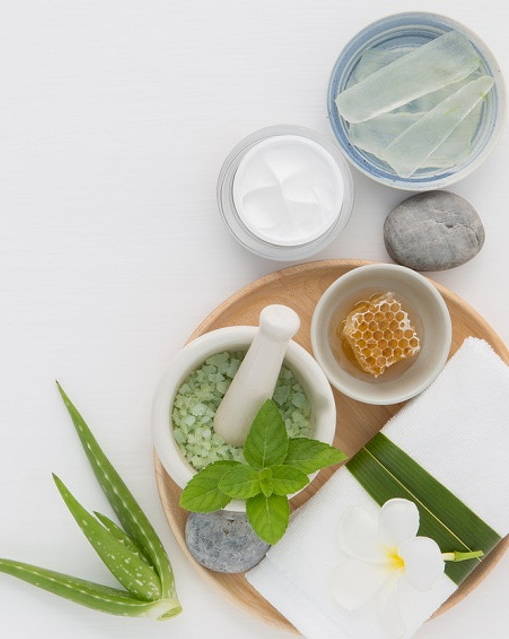 Ingredients
2 tablespoons Dr Mercola Aloe Vera Gel

1 tablespoon honey (natural, manuka)

1-2 teaspoons spirulina powder
Method
Mix all of the ingredients to form a paste.

Apply a thin layer to skin 2-3 times a week (the recipe lasted me 2 weeks in the fridge)

Leave to dry for 15-20 minutes

Remove with a warm cloth

Leave the skin makeup free and lotion free for at least 30 minutes.
*If you are lucky enough to use fresh Aloe Vera, you will need to put it in a blender until smooth.
---
If you haven't found what you are looking for here, or would like to discover all the wonderful skincare products we stock see below.