Posted by Marie-Eve Maitland on 28th Dec 2022
To join force with our vegan customers, we've decided to put together a list of our most popular vegan recipes.
We have everything from smoothies, breakfast ideas, re-imagined classic, soups, stews, dinner, and sweet treat.
As with all of our recipes, they have been tested and tried in house (on many occasions by our team) and will be healthy too.
Chocolate Scrummy Granola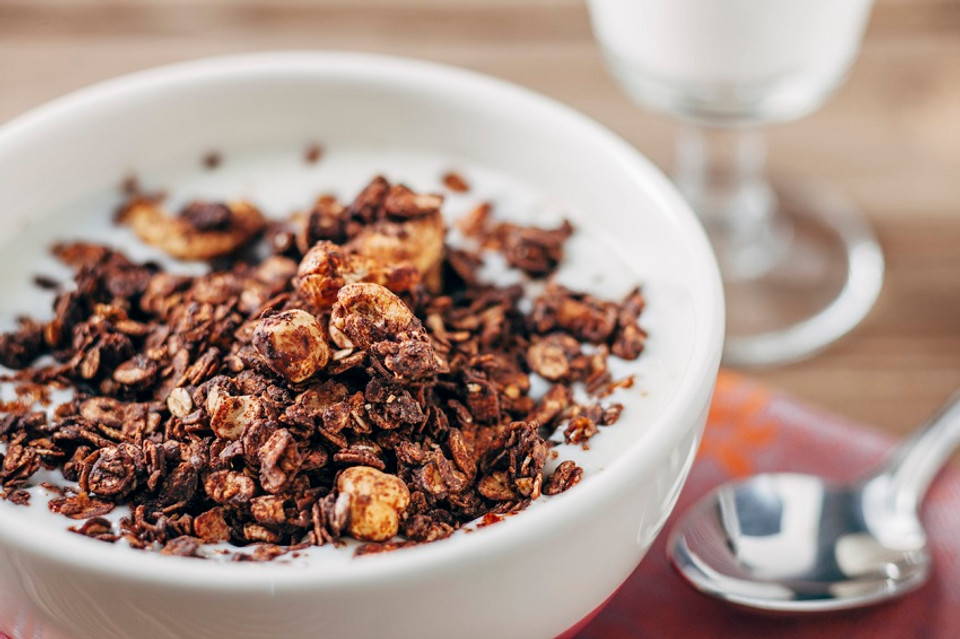 ---
Ingredients
75g rolled oats
75g rye flakes
75g hazelnuts, coarsely chopped
50g coconut chips, raw
30g cacao nibs
25g chia seeds
1 teaspoon of vanilla seeds
1 generous pinch of Himalayan salt
2 tablespoons cacao powder
1 tablespoon coconut oil
75ml maple syrup
Directions
Preheat the oven to gas mark 2
Mix the dry ingredients (except the cacao powder) together in a big bowl and set aside
Gently heat the coconut oil and add the maple syrup and cacao powder. Whisk with a fork until no lumps are left. Add this to the dry ingredients and stir
Place granola mixture on a lined tray and pat down and bake for 25-30 minutes, stirring occasionally
Take out of the oven and let cool before breaking into large pieces and storing into an airtight container.
---
Ingredients (makes 1 large)
1 cup of blueberries
1 small banana, peeled
1-2 teaspoons Vitamin C powder
1 scoop Living Fuel Living Protein
1/2 cup unsweetened almond milk
Water
Optional - toppers such as fresh or frozen fruits, granola, oats, and granola.
Directions
Add all the ingredients in a blender and whizz until you have a smooth consistency
Add more water if needed
Fill in a large glass and top with your favourite healthy treat - optional but recommended.
---
Ingredients (makes 4 portions)
2 tbsp olive oil
700-800g pumpkin or butternut squash, seeded and cut into large chunks
1 tbsp olive oil
3 shallots, chopped
500ml vegetable broth
200ml coconut milk
1 tsp ground cumin
1 tsp garlic powder
Salt and pepper to taste

Optional to serve: Pumpkin seeds and coconut milk
Directions
Preheat the oven to gas mark 4. In a large bowl, mix the olive oil to the pumpkin/butternut squash pieces.
Spread evenly on a baking sheet. Cook in the oven for 35-45 minutes.
Whilst the pumpkin is cooling (let cool in the oven), cook the shallots for 5 minutes.
In a large cooking pot, add the cooled pumpkin, vegetable broth, coconut milk, spices, salt and pepper.
Let simmer for 10 minutes.
Blend and serve with a swirl of extra coconut milk and pumpkin seeds.
Evolution Organics Superfood Salad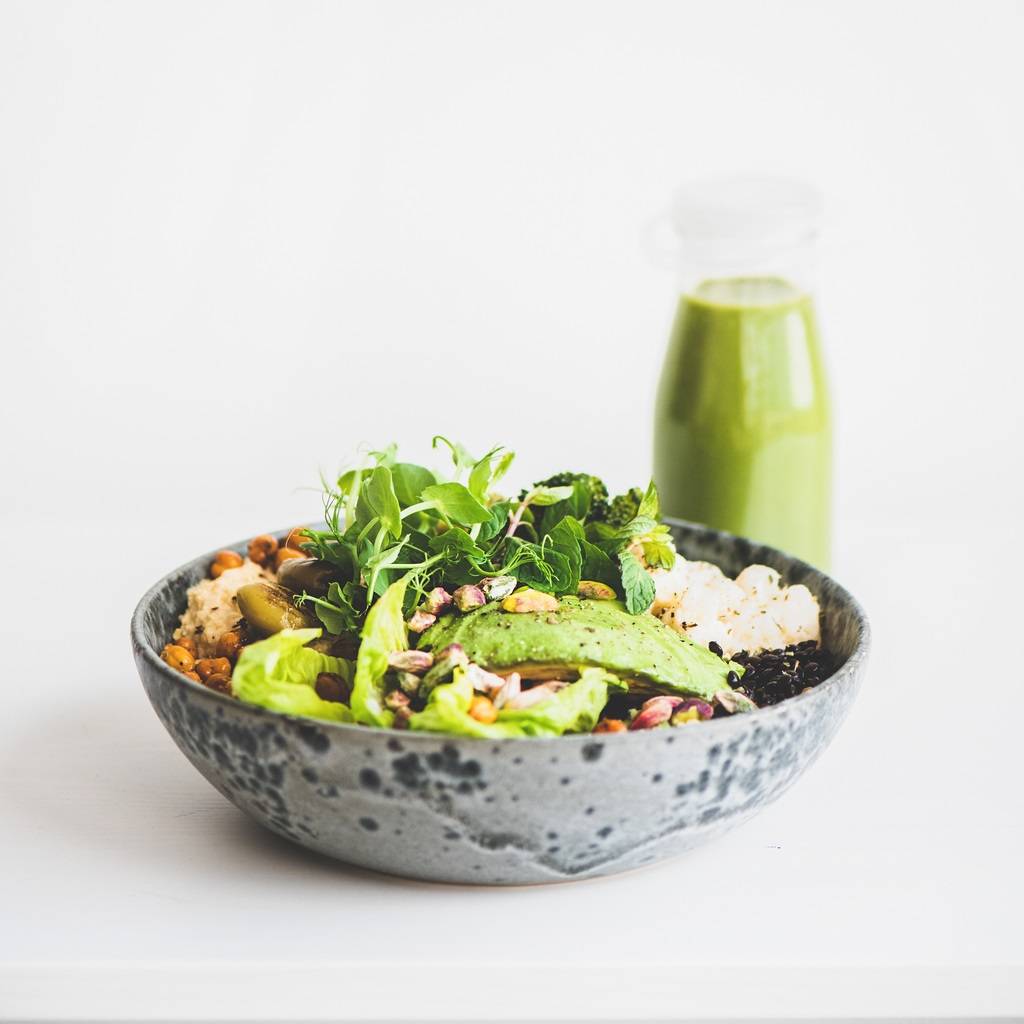 ---
Ingredients
30g quinoa
150g fresh kale
120g peas, frozen
1 handful of green and black olives
20g sprouts (alfalfa or broccoli)
1 gem lettuce, leaves left whole
20g toasted seeds
½ red onion, thinly sliced
Small handful parsley – chopped
Small handful mint - chopped
3 tablespoons houmous
1 avocado cut into pieces
100g crumbly vegan cheese
Dressing
2 tablespoons of lemon juice
4 tablespoons extra virgin olive oil
1 garlic clove, crushed
Directions
Put the quinoa in a small pan. Cover with cold water (plus a bit more) and gently simmer until the water is gone – about 10-15 mins. Spread it on a tray to cool to room temperature.
In a large bowl, put the kale and add 1-2 tbsp of lemon juice and massage the kale*
Boil a large pan of water and drop the peas and simmer for about 1-2 mins. Drain and let cool.
Now for the dressing – place the oil, lemon juice and garlic in a jar and shake vigorously to mix.
Place all the salad ingredients in a large bowl (quinoa, kale, peas, sprout, lettuce, seeds, red onion, fresh herbs, seeds) and mix.
Divide into plates and add dollops of houmous, avocado slices and crumbly vegan cheese on top and when you're ready to serve add the dressing.
*Kale is quite tough and fibrous and can be difficult to chew. By massaging it for as little as 2-3 minutes it becomes more tender, making it easier to chew and digest.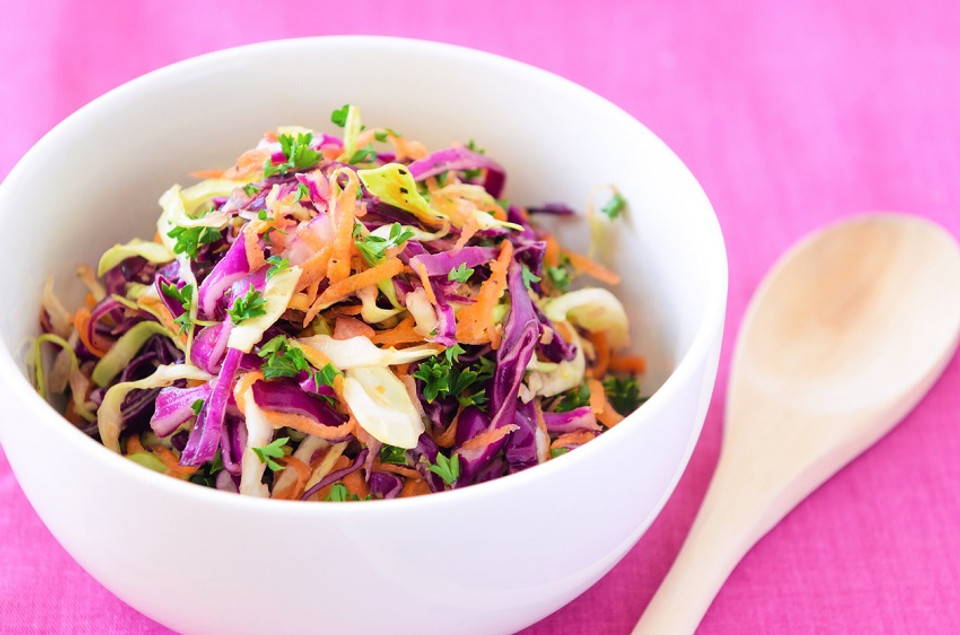 ---
Ingredients (makes 4 servings)
1/2 small red or white cabbage or a mix
1 large carrots
1 apple
Handful cashew nuts
Fresh mint, coriander and dill (a large handful in total)
Juice of 1/2 lime
1 red chilli (optional)
To serve: 2 tablespoons sesame seeds
Salad dressing:
1.5 tablespoons sesame oil
2 Tbsp Aminos All Purpose Sauce
1 Tbsp Apple Cider Vinegar
1 lime (juice)
3 Tbsp extra virgin oil
Directions
In a large mixing bowl, prep your veggies, slice the cabbage, julienne the carrot and apple (match stick size). Add the juice of 1/2 lime to keep the apples from oxidising.
Chop the cashew, fresh herbs and chilli (if using). Add to the veggies.
Make the dressing by mixing all the ingredients.
To serve, add the dressing and sprinkle with sesame seeds*
*It's best to use the dressing just before you want to eat the slaw, leaving overnight for example will make the nuts and some of the veggies soggy.
How to use:
In a fish taco
Topped with a fried egg and chilli sauce
In any sandwich
Super tasty topped with large avocado chunks
On its own
Vegan Staple - Cashew mylk!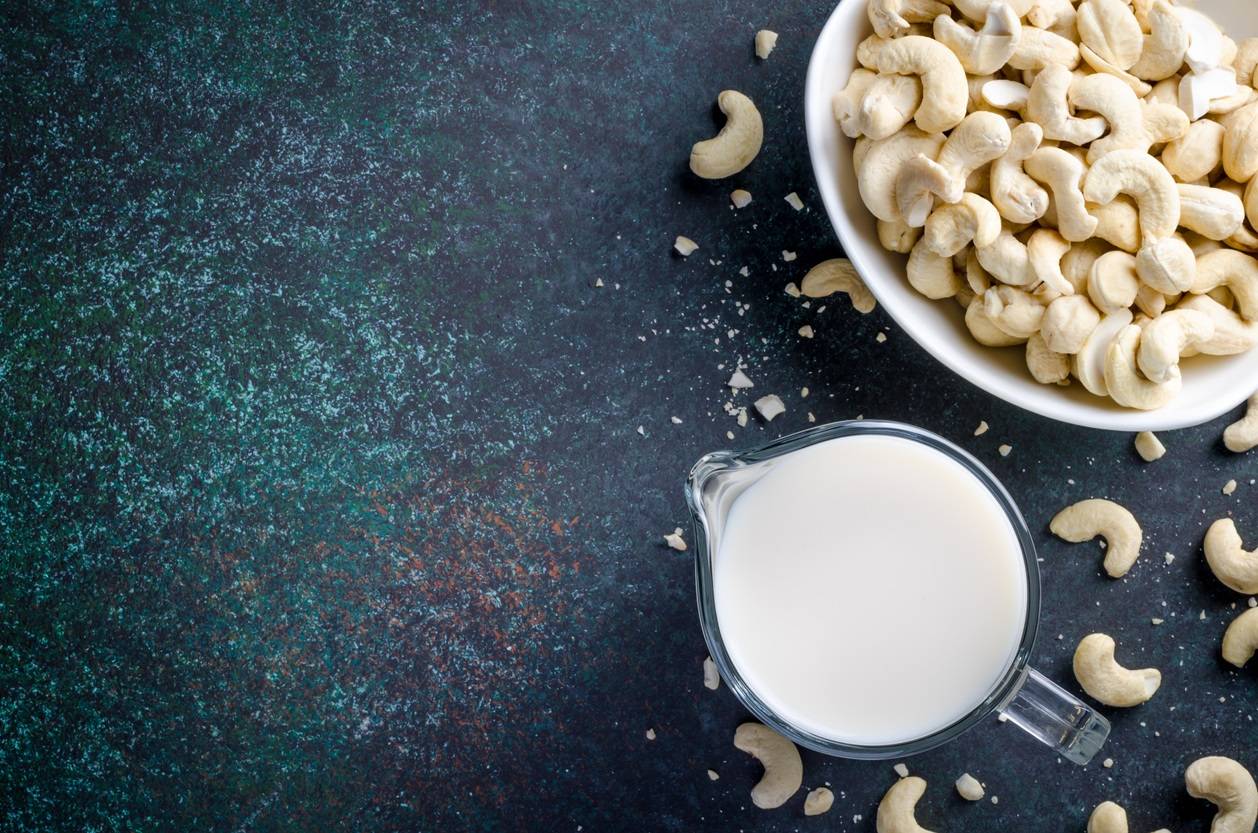 ---
Ingredients
1 cup organic cashews
What you will need: strainer and cheese cloth to strain
Optional (to sweeten): 2-3 dates and a pinch of vanilla seeds and ground cinnamon
Directions
Gently clean the cashews under cold water and cover them with filtered water overnight
Once they have soaked, drain the water
Put the nuts in your blender along with 2 cups of water, a pinch of salt and also the dates/vanilla/cinnamon (if using) and blend at high speed for a few minutes (until it looks smooth).
Put your metal strainer lined with a cheese cloth over a large bowl and pour the mixture in
Gather the cheese cloth and squeeze and press to extract as much mylk as possible*
Store the mylk in a sealed bottle in the fridge, it will keep for up to a week.
*Unlike most nut mylk, you do not need to strain cashew mylk but I like to ensure it's smooth.
Creamy 3 ingredients Caramel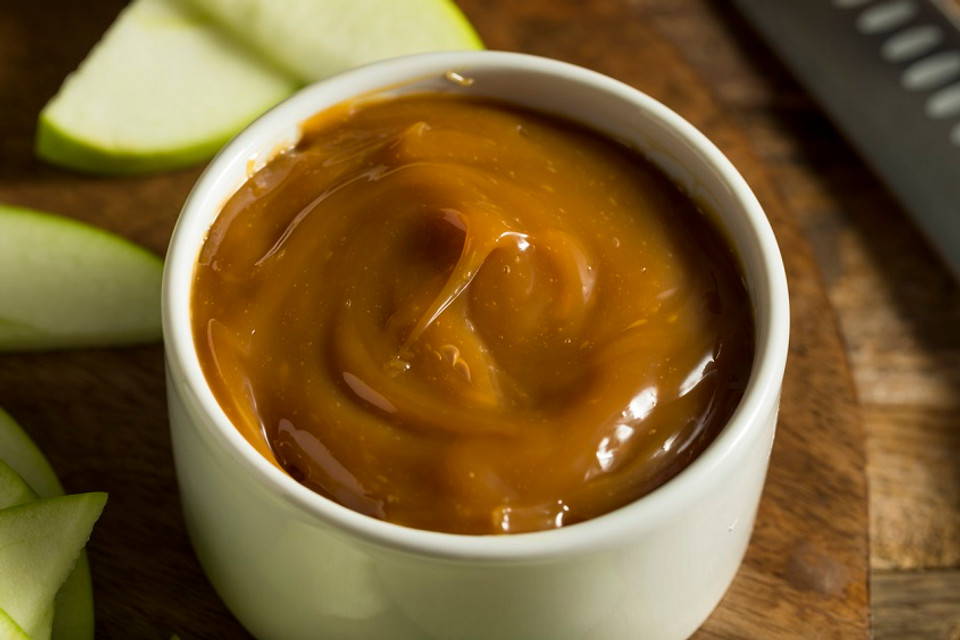 ---
Ingredients
125g dried dates, chopped
1 cup of boiling water
1 teaspoon of vanilla paste
What you will need
A food processor*
1 fine sieve
A container with a tight fitting lid (mason/kilner jar is my pick)
Directions
Put the chopped dates and boiling water in a container with a tight fitting lid, close and let to rest for 30 minutes
Put the dates and water in a food processor alongside the vanilla
Whizz until smooth and add more water until it's at the consistency you want
Strain the caramel in your sieve.
Serve with pancakes or with sliced apples as a treat. Will keep in the fridge for up to 3 days.
* A blender is fine too but will take longer and you will need to scrape the sides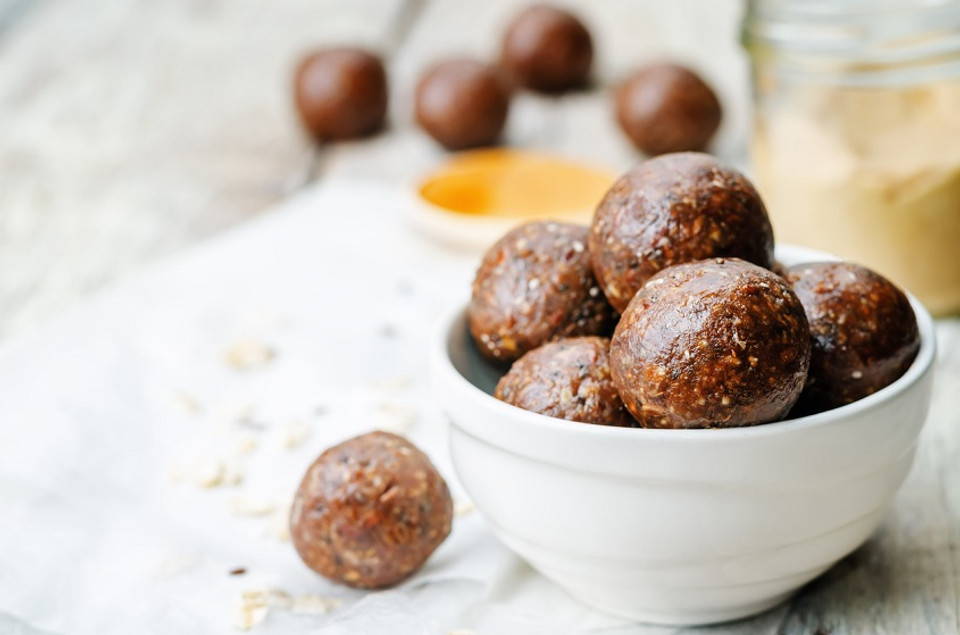 ---
Ingredients (make 12 large balls)
100g cashews
150g pitted dates soaked in boiling water for 5-10 minutes
25g Cacao Powder
1 tablespoon MCT Oil
2 pinches Himalayan Salt
1 tablespoon Cordyceps Powder (don't worry you wont taste it)
1 teaspoon vanilla extract
Optimal to coat your balls: crushed cashews or cacao powder
Directions
Put all of the ingredients in a food processor and blends until it forms a sticky dough
Roll the ball in slightly wet hands and coat in either cacao or cashews
Store in a air tight container for up to 10 days.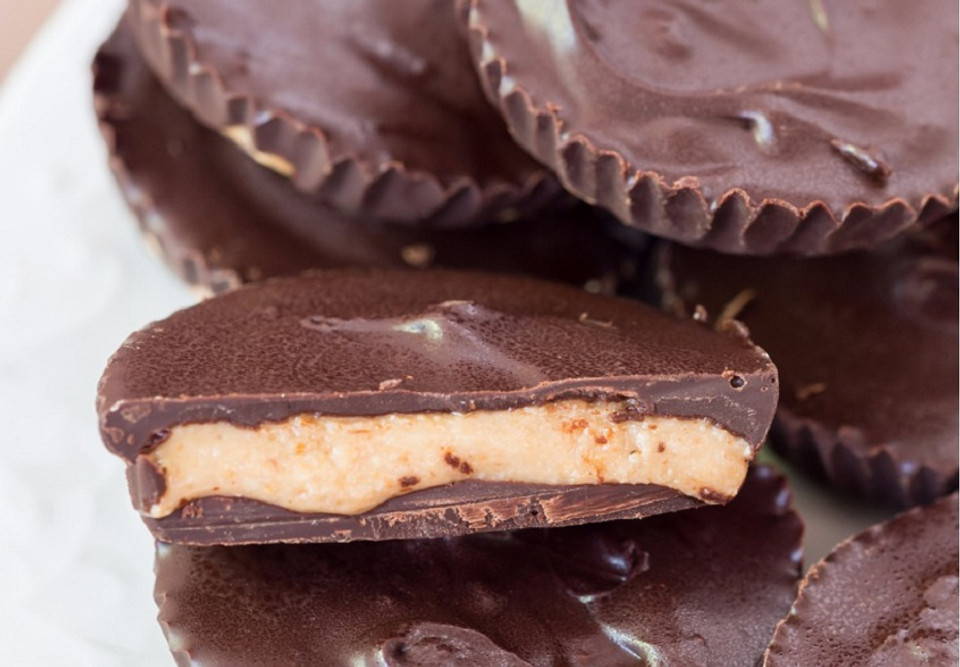 ---
Ingredients (Make between 9-12 cups)
Chocolate Cups:
100g Cacao Liquor
50g Raw Cacao Butter
1-2 teaspoons vanilla extract
2 tablespoons Maple Syrup
Filling:
2 tablespoons Peanut Butter
1-2 teaspoons Maple Syrup or Coconut Nectar
What you will need: 12 x muffin silicone moulds
Directions
Gently melt the cacao liquor and cacao butter in a bowl over simmering water
Once melted add vanilla and the sweetener
Fill a silicone mould with a tablespoon of chocolate and let it set for 15 minutes in the freezer
Mix the ingredients for the filling together and set aside until needed (if it's too runny, pop the bowl in the fridge)
Add a teaspoon of the peanut butter mix on the chocolate "disk", flatten it with the back of a spoon and cover with another spoonful of chocolate
Let it set in the freezer for at least 30 minutes, take out of the mould.
The Ultimate Vegan Banana Bread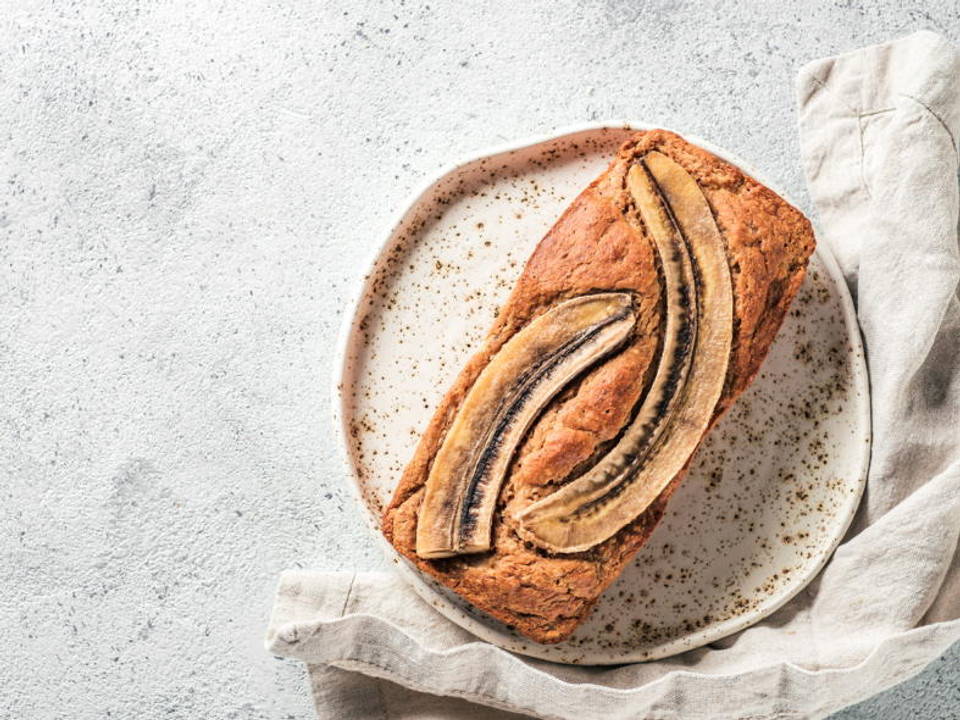 ---
Ingredients
3-4 very ripe bananas (~325g)
100g soft brown sugar or NKD Living Gold
300g self-raising flour
1 teaspoon baking powder
150g melted vegan butter
Cacao nibs (optional)
Directions
Preheat the oven to 180°C/160°C Fan and line a loaf tin with parchment paper
Mash the bananas, add the sugar, flour, baking powder and combine with a wooden spoon
Add the butter to the mixture and beat well together
Add in any extras you would like - cacao nibs (or sultanas, fried fruits, ect)
Spoon into the prepared tin and bake for 55-60 minutes
Leave to cool for 10 minutes and transfer to a wire tray.