Posted by Marie-Eve Maitland on 8th Nov 2023
We're feeling festive in the Evolution Organics kitchen. This recipe has been tested quite a few times, so our house/office has been smelling mighty Christmas-sy for the last few months. Nobody is complaining though, especially not our daughter who loves theses little gems.
I made the recipe with all natural ingredients, no refined sugar, lots of spices and I also added a turmeric kick to give them a healthy edge.
Two of the biggest dietary challenges for many people are finding enough good sources of healthy fat and fibre. Seeds are an outstanding source of both. We have included a few seeds to our recipe such as chia seeds and milled flax seeds too and anyone can benefit from these valuable nutritive ingredients.
See the recipe below and we hope you love them as we much as we do... Merry Christmas!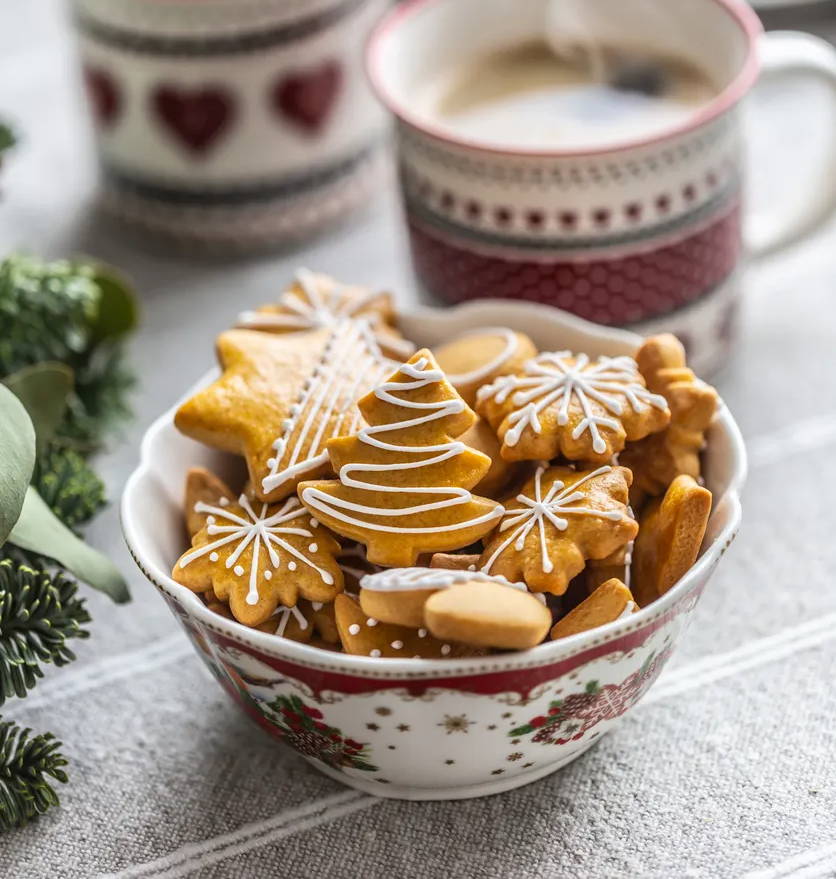 Ingredients:
(makes 12 rounds, 8 big gingerbread)
1 1/2 tablespoons milled flaxseed
1 1/2 tablespoon chia seed
350g spelt flour
2 tablespoons NAHS Ceylon Power Tea
1 teaspoon ground turmeric (+ a pinch of black pepper)
1/4 nutmeg pod, grated
1/4 teaspoon Himalayan salt
200g unsalted butter or vegan butter, softened
125ml maple syrup
1 teaspoon vanilla extract
Directions:
Add the flaxseed & chia seeds in a small bowl with 4 tablespoons of warm water (makes a vegan egg)
In a large bowl mix the flour, spices, salt and make a well
Mix the "vegan egg" with the softened butter and maple syrup
Pour the wet ingredients into the well and mix. Cover the bowl and let it rest in the fridge for an 1/2 hour to firm
Preheat the oven to gas mark 5 / 190C
On a slightly floured surface, roll the dough thinly (0.5cm or so) and cut the shapes
Bake in the oven for 15/20 minutes. Until golden around the edges
Wait until they are completely cool to ice
Perfect to use as decorations for your tree.
And about the ingredients we used
Milled Flaxseed
Flaxseed is a versatile ingredient that can enhance the taste and texture of almost any recipe. Why not mix it into your morning porridge and/or smoothie. It's loaded with nutrients and linked to numerous benefits. 1 tablespoon of ground flaxseed packs 2 grams of fibre. Flaxseed helps to support gut health and improve bowel regularity. What's more, flaxseed omega 3, compounds like lignans which has many potential health benefits.
Chia Seeds
Chia seeds antioxidants, minerals, fibre, and omega-3 fatty acids which play a role in supporting multiple body functions and systems.
Chia seeds are also a great source of antioxidants.
Chia seeds are easy to incorporate into your diet, you can add 1-2 teaspoons to anything and the taste won't change. We like to add it to peanut butter on toast, oats, salad, smoothie and cookies!
Spelt Flour
Spelt flour has a similar nutritional profile to common wheat. It is slightly higher in protein, but also slightly lower in insoluble fiber. Spelt is also higher in some important vitamins.
Spelt is an ancient whole grain that can be a nutritious addition to your diet and it is always a good idea to choose whole grains instead of their refined counterparts.
North American Herb & Spice CeylonPower Tea - 100g
CeylonPower is the most aromatic, potent, wild ginger and wild Ceylon cinnamon concentrate available. Grown in the highlands and the mountains of Sri Lanka the enhanced wild Ceylon ginger improves absorption. Use it to support all your blood sugar, digestive response, immune and inflammation support.