Posted by Marie-Eve Maitland & Happy Bum Co on 17th May 2023
At Evolution Organics, we pride ourselves with offering our customer only the best supplements, skincare, home care, and foods. Over the year, we have also made a point to stock enemas supplies too. Enemas are a thing I totally love and have helped me greatly over the years with gut issues and gentle cleanse.
We already stock all you need for enemas, from coffee, kits, and accessories. Today, we are happy to introduce you to a new enema company, Happy Bum.
Happy Bum sells everything you need for enemas, from the seasoned user to the newbie.
---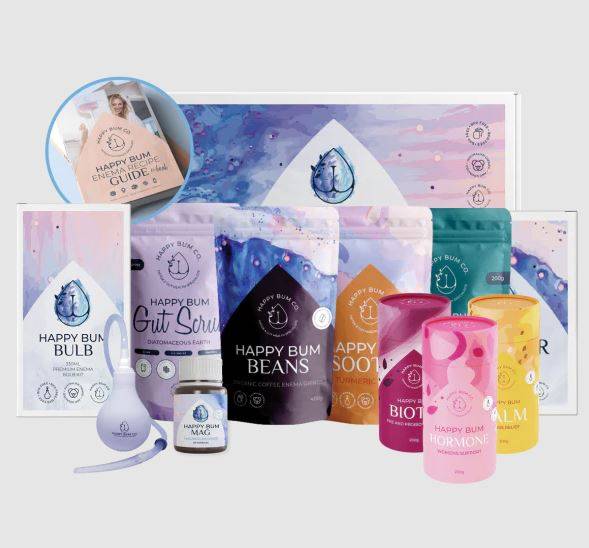 How the Happy Bum Co came to be....
The Happy Bum Co was founded by Kyah Seary, a passionate Colon Hydrotherapist, Gut Health Specialist and Mother of two who strongly believes in the benefits of detoxification. Enemas proved to be an invaluable tool throughout her struggles with constipation and provided immediate, natural and portable relief anytime, anywhere.
The Happy Bum Co was created so she could share these amazing tools for gut health with the community she knew so desperately needed them. Ensuring only the best quality, ingredients and support given on each of the products.
Often enemas are the last things people will try as they are scared to put something up their bum and make a mess. Happy Bum's aim was to change that mentality around enemas and detoxing to create a positive, supportive, and encouraging community of like-minded people searching for better health.
---
Happy Bum aims to share and educate their amazing customers on the products they've created to benefit their gut, mental and overall physical wellbeing.
Detoxing and enemas can be different for everyone and have been shown to have many benefits:
Relief from chronic constipation and bloating
Weight loss
Reduced fluid retention
Clearer mind & anxiety relief
Balanced hormones and regular cycles
Better bowel movements
Clearer and brighter eyes & skin
Removal of parasites and candida
We hope you love using your products as much as we do! Good luck on your detox journey, we wish you all the best!
---