Posted by Marie-Eve Maitland on 10th Aug 2022
This month's brand focus is on none other than Pukka. In Hindi, pukka means 'real, authentic or genuine' – it embodied everything that Tim and Sebastian wanted their business to be; it also sounded positive and felt ripe, juicy, tasty and delicious to say." So, this is how and why the brand was founded, to provide real supplements, tinctures and teas and to this day, that's what they've done.
Pukka as a brand has changed and are continuously updating their range for an even better product and this is for everything from their vitamins, minerals, blends and of course their teas.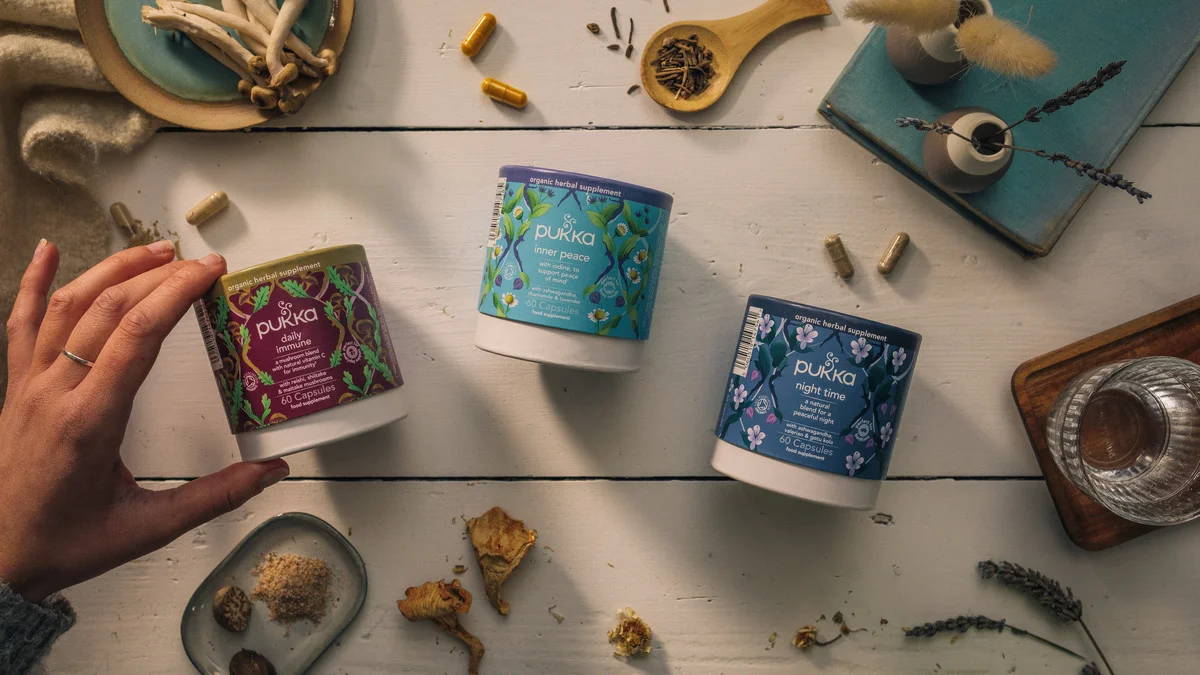 Organic and bursting with the very best nature has to offer. Pukka's range of supplements, will become your herbal hero with a wide range to help you get the most out of what nature can offer.
What makes Pukka's Supplement different:
Proven level of active ingredients
Rigorous safety testing
Whole herb blend
Inspired by ancient herbal wisdom
Supported by innovative scientific research
100% organic and non-GMO herbs
Sustainable approach
Night Time is an organic night time herbal blend including Valerian & Ashwagandha. It is a concentrated blend of some of the world's finest herbs gathered from fertile organic soils. This broad-spectrum formula contains the highest organic grade, sustainably cultivated herbs, carefully selected to bring you the full potential of nature's goodness.
Daily Immune capsules for a powerful adaptogenic complex that supports long-term immune building.
Feeling like you need a little internal support? Daily Immune capsules are herbal supplements for the immune system. They use a blend of mushrooms, including shiitake, maitake, and reishi.
Pukka's Daily Immune capsules are rich in beta-glucan polysaccharides, which are renowned for having a supportive effect on the immune system. Also containing acerola fruit extract for a natural source of vitamin C, these organic capsules can be taken to (supplement) support your body's immunity.
Wholistic Ashwagandha is a natural formula to nourish the mind and relax the nervous system.
Ashwagandha, the herb of modern life, is one of Ayurveda's most prized adaptogenic herbs; it is known to rejuvenate. By nourishing a worried mind and relaxing the nervous system, the body is rebalanced and ready to tackle life's challenges.
Pukka's organic Wholistic™ Ashwagandha uses a unique extraction process to retain all 45+ active compounds. This ensures a powerful, concentrated extract that maximises the synergistic benefits.
As the pressure of modern life weighs heavy on our minds, it can leave us feeling overwhelmed and in need of some tender love and care. You can find a shoulder to lean on in the form of Pukka's Inner Peace capsules. Using this synergistic blend of natural organic botanicals eases worries and supports long-term resilience.
Containing an organic herbal combination of ashwagandha, chamomile and lavender to support resilience and promote a sense of calm.
Whether you're a student trying to get in the zone for an upcoming exam or dealing with increasing mental demands, it's important to find ways to nurture the power of concentration. The more focused the mind, the better it performs.
A blend of some of our favourite hero herbs, turmeric, brahmi and rosemary, Mind Focus assists in settling the uncomfortable feelings in your gut and supports cognitive ability.
Buy them today and give your mind a little support.
Pukka Castor oil is an organic cold-pressed massage oil, superb for nourishing dry skin and removing stagnations from the body, assisting detoxification and soothing the skin.
High-quality pure castor oil, organic and sustainably sourced
Smooth through split ends, coat your lashes or dab on eyebrows and see the difference
Superb for nourishing, smoothing and hydrating dry skin
Massage oil for detoxification and can be used externally as a castor oil pack
Hexane free
Pukka's supplements combine the latest scientific research with traditional herbal wisdom to naturally support your body. From their Nigh Time, Daily Immune and Pure Castor Oil, you are bound to find the best product(s) for you.
---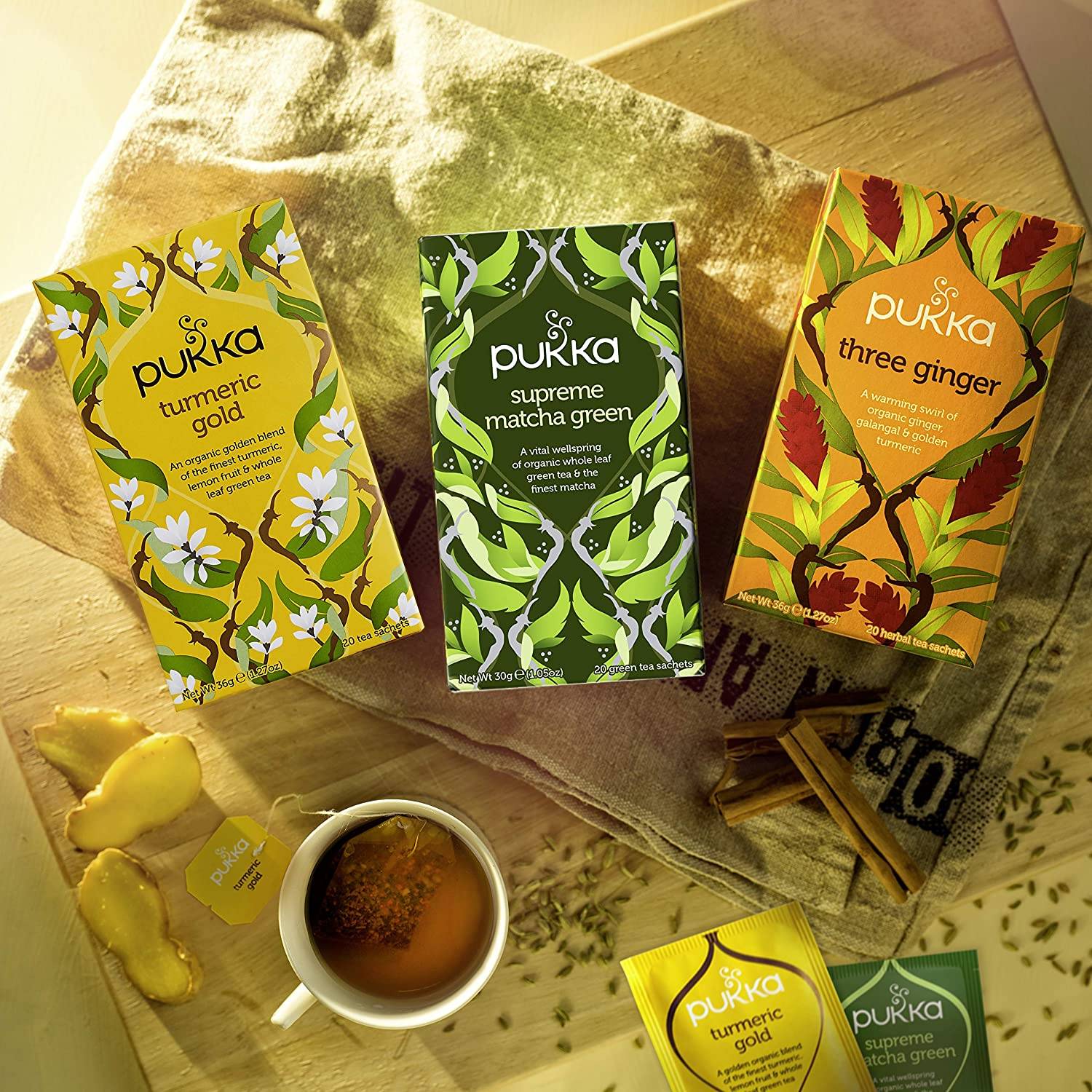 Pukka Herbs has the ideal herbal tea for you, for every occasion. From organic green tea, ginseng tea, berry tea and more — all made from the highest quality herbs that burst with the very best nature has to offer.
Whey should you choose Pukka tea?
The tea bags are suitable for home composting
Box made with FSC certified cardboard and printed with vegetable-based inks
Plastic free tea bags
Each bag individually wrapped so that once the box is open the other teabags remain fresh
Pukka's tea are Certified Organic by the Soil Association and Fair Trade too!
Our top picks:
---
Pukka's Vision for the Future


"We know that organic plants offer a natural and effective path to nurturing health as well as being a way to take better care of the planet upon which we depend. We champion a holistic herbal approach rooted in ancient wisdom and enlightened by the latest science. Through this, we aim to empower everyone to take charge of their own health and wellbeing."
With our planet needing our help, many companies such as Pukka are working toward a better future for the next generation. As a retailer, and having sold (and used) most of Pukka's range over the years, knowing that the company is actively doing their bit (albeit in a big way) is wonderful.