Posted by Emma Nolan on 8th Mar 2023
KIKI Health is recognised and respected as the standard for excellence in healthy lifestyle products and individuality. Born out of a desire to promote optimum health and wellbeing, the objective and passion is to source dietary and beauty boosting products of the highest quality, purity, and integrity from around the world.
From the very beginning, and to this day, KIKI never compromise by adding additives or using inferior ingredients – just 100% active ingredients. They harness the potent powers of plant-based, natural ingredients brimming with essential plant-actives, vitamins, and minerals to give brain, skin and body an unbeatable boost.
By ensuring our products are responsibly farmed, KIKI not only look after the environment, but also guarantee product quality. KIKI travel the globe in search of organic, ethically obtained ingredients, with a superior nutritional value, whilst supporting local communities to thrive.
To achieve optimum bioavailability, KIKI strive to maintain the ingredients as close to their natural state as possible. They adhere to minimum processing and controlled temperatures, directly after harvesting, to retain all the health benefits and vital nutrients.
All ingredients and final products are regularly tested by a third-party laboratory. This ensures that every batch is tested for heavy metals, microorganisms and pesticides under strict quality control conditions, and the results are all within the EU and UK limit regulations, including organic farming standards.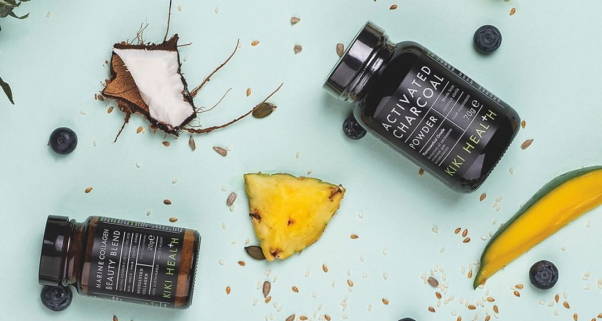 Pioneering, Independent, British- based ethical company
Highest quality plant based organic ingredients

Ethics, integrity & purity when sourcing ingredients and manufacturing procedures.

Importance of traceability of ingredients

Certified organic or wild-crafted

No compromising with additives, binders, fillers or other nasties

Non-irradiated and non-GMO

Fully bio-available food based nutritional potency

Gluten, dairy & wheat free
A Mindful Brand
No compromising
Recyclable Packaging
PLANT-BASED WHOLEFOODS
"Clean supplements means above all else natural inner beauty. Our ingredients come exclusively from nature. We keep the nutritional content as near to the original fruit or plant as possible, and therefore retain the full potential of each and every fruit or plant."

Cary Kikis, Founder and CEO
---
POPULAR KIKI HEALTH PRODUCTS
---