Posted by Guest Post by Planet Paleo on 31st May 2022
Bone broth (bone broth powder) is considered to be one of the most ancient food sources on the planet and an exceptional source of nutrition. Made from simmered animal bones, it is an elixir that not only tastes great but provides numerous health benefits. You can enjoy this super elixir at any time of day and we have both sweet and savoury options to suit your tastes.
Here is how to use bone broth powder...
If you are stuck for how to use your organic bone broth powder then here are some of our favourite ways to include this nutrient-packed food in your daily diet
---
The simplest and easiest way to get the health benefits of this medicinal food. For the savoury bone broth products simply add hot water, and even add a little MCT oil for a bulletproof bone broth. For the sports proteins simply add to water or non-dairy milk as you would a protein shake. You can also add it to your coffee, or try making a hot chocolate with Planet Paleo Chocolate Bone Broth Sports Protein for a delicious treat.
---
2. Cook your grains and veggies in it
Add a serving of Planet Paleo Organic Bone Broth products to saute your veggies, add to cauliflower rice, mashed potato, or cook rice/quinoa or other grains of choice in it. Add their turmeric bone broth for an aromatic flavour, with the health benefits and flavour of the spices.
PS Note from Evolution Organics - we made curries & egg fried rice with the Pure Bone Broth, it's really good!
---
The classic way to use the savoury flavours, use Planet Paleo's organic bone broth products as a flavoursome and nutrient-rich base for soup. This is like a warming hug from the inside, and super nourishing if you are feeling under the weather or recovering from illness, and a great way to support your joint health and bone health.
---
One of Planet Paleo's favourite ways to use the bone broth powders, try adding a serving of organic banana, or chocolate bone broth protein to your paleo pancakes. The perfect post-workout treat to support your muscles and joint health, packed with essential amino acids, and nearly 14 grams of protein per serving. Try adding the savoury flavours for savoury pancakes too. The chocolate and banana bone broth protein powders make the perfect addition to your baking recipes, try adding to keto brownies, energy balls, or cookies for added health benefits.ext
---
While it's easy to only associate bone broth with savoury recipes, our chocolate and banana flavours make the perfect nutrient-packed addition to your smoothies. They have a delicious creamy taste, with none of the chalky texture, additives or sweeteners of your standard protein powder. A great way to make your smoothie more sustaining with nearly 14 grams of protein per serving, helping with satiation and blood sugar balance too.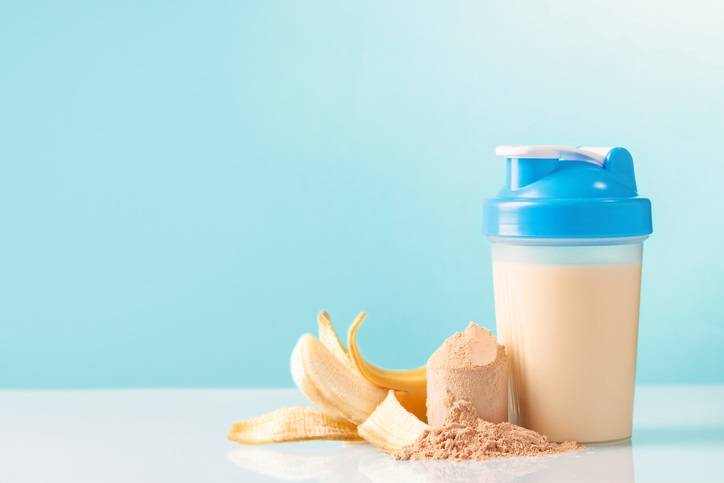 ---
What are the bone broth powder benefits?
Bone broth powder is rich in collagen & minerals and it can benefit our gut health, bone health, joint health and more.
According to the Center for Nutrition Policy and Promotion, bone broth contains most of the nutrients typically found in meat, without the associated fat and calories. This includes minerals like calcium, potassium, magnesium, and phosphorus, as well as glucosamine and chondroitin sulfate. It also contains collagen, a protein that's crucial for maintaining healthy hair, skin, nails, and muscles.
Planet Paleo's bone broth supplements come from the highest quality Scandinavian cattle, reared to the KRAV certification which is the gold standard for animal husbandry globally. Their bone broth supplements are always free from artificial ingredients, fillers and anti-caking agents, and Planet Palro only use non-gmo ingredients.
Bone broths naturally contain collagen, but alongside an array of nutrients in an easily digestible whole food form, from calcium and magnesium to hyaluronic acid and glucosamine. This powerful elixir is stacked with nutrition to support your health.
---