Posted by Maire-Eve Maitland on 1st Feb 2023
Since energy prices have increased quite dramatically, most of us will have made changes at home to reduce our energy use. From lowering our heating, turning the lights off and turning off appliances that are not in use.
I too have been more careful and one thing I have started using more is my slow cooker. Not only are slow cookers energy efficient but I love coming back home after a long day to a meal that's pretty much done and sorted.
I use a combi electric slow cooker/pressure cooker. I can sear ingredients before setting up the cooking time and there's also an option to thicken sauces, stews, soups. This, in turn, lowers the amount of washing up.
These 3 recipes are easy and full of goodness. They make enough for a few meals for a family of 4 in most case (depending how you use them) so make some space in your freezer!
---
Serves 6/ Prep Time – 30 minutes / Cook Time – between 4-6 hours
Bone broth is one of the most nutritious foods on the planet, it's full of healthy fats, collagen, and it contains many important vitamins and minerals. This is not a bone broth recipe but if has the same feel to it. For our bone broth recipe see link HERE
Ingredients
• 1 whole chicken
• 2 organic stock cubes softened in 2 tbsp olive oil
• 2 whole onions, peeled and quartered
• 2-3 carrots, peeled and thickly sliced
• 2-3 celery, cut and thickly sliced
• 4-5 garlic cloves, peeled, and cut in 1/2
• 300g new potatoes
• Fresh thyme & parsley chopped
• Fresh bay leaf
• Salt and pepper to taste
• 1L water (or enough to cover your chicken)
• Optional – 1-2 spoonfuls of Planet Paleo Organic Bone Broth
To serve - sourdough bread, grass fed butter, dill and spring onions.
Directions:
1. Brush to chicken all over with the stock cube and olive oil mix
2. In a large pot (or slow cooker) sear your chicken all over, to give it some colour and retain the juices. Take the chicken out and leave it to rest on a plate
3. Add the onions, carrots, celery, garlic and potatoes to the slow cooker (add more oil if needed) and fry for 10 minutes
4. Return the chicken to the slow cooker and add the fresh herbs and cover with water, bone broth, salt & pepper
5. Set the slow cooker to LOW for 5 hours or HIGH for 2-3 hours
6. Once the cooking time is up, adjust the salt and pepper and serve.
---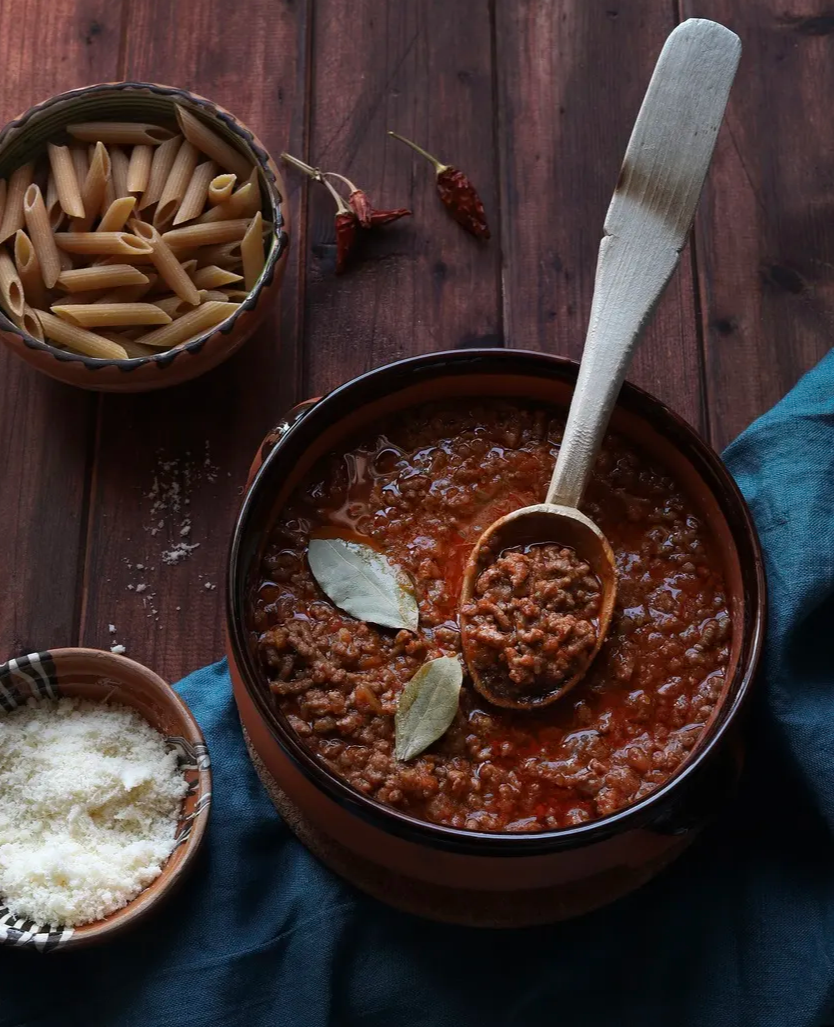 Spag Bol (i.e MY-version-of-spag-bol)
Serves 4 / Prep Time – 30 minutes / Cook Time – between 4-6 hours
Super easy spaghetti sauce! You can serve it with pasta, or bread, in a baked potato, or as a lasagne sauce. It's packed full of lovely ingredients and unlike most pasta sauce, no sugar at all.
Cooking enhances the nutritional value of tomatoes!
An issue from the Journal of Agriculture and Food Chemistry revealed that heat processing is able to enhance the nutritional value of tomatoes by increasing antioxidant activity, as well as the absorption of lycopene by the body.
Ingredients
500g minced beef
100g chopped pancetta (or bacon)
2 onions, peeled and chopped
1 large carrot, peeled and chopped
2 celery sticks, chopped
2 tablespoons dried oregano
Bay leaves
Splash red wine (about 125ml)
2 x 400g tinned chopped tomatoes
To serve: fresh pasta, soudough buns, baked potato and organic parmesan!
Directions:
Add all the ingredients (apart from the oregano, bay leaves, wine & tomatoes) to either a large saucepan or the slow cooker (if they have an option to sear) and cook until the beef has coloured
Add the wine, let it reduce
Tip the whole mix to the slow cooker, add the herbs and tomatoes and cook on LOW for 5 hours
Once the cooking time is up, adjust the salt and pepper and serve.
---
*** This recipe is not mine – but a favourite from Riverford. Enjoy! ***
Serves 4 / 4h 10 min
After lots of requests for veggie and vegan slow cooker recipes, here's a simple dal. You can't really overcook dal, making it great for slow cooking. This recipe is easy to make, cheap, healthy and very adaptable. Slow cookers use very little energy to run, so this recipe could be your new best friend this autumn and winter if you're looking to reduce your energy usage at home.
Add whatever vegetables you like/have at home. Veg like squash, carrots, parsnip, courgettes can be added at the beginning, but add leafy greens like spinach and kale at the end.
Ingredients
1 onion, peeled & diced
2 garlic cloves, peeled & grated
30g ginger, peeled & grated
2 tsp cumin seeds
2 tsp ground coriander
2 tsp black mustard seeds
1 tsp turmeric
1 tsp curry powder
1/2 tsp chilli flakes
200g chopped tomatoes (fresh or tinned)
400g split red lentils
700-900ml water or veg stock (the lentils should be covered by about 2cm of water)
Salt & pepper
Method:
Step 1 - Add everything to your slow cooker. Stir well. Set the slow cooker to high if you want to eat in 3 hours or so, or set to low if you want to cook overnight/all day.
Step 2 - After 3 hours (or the next morning), taste to check the seasoning and that the lentils are cooked. Add more water if you think the consistency is too thick – you want a loose-porridge like consistency. If using, add leafy veg 10 minutes or so before serving, stirring through so it wilts in the heat.
Step 3 - Serve with rice or naan bread. If cooking overnight to eat the next day, just turn off the slow cooker in the morning and reheat before serving.
---